What is Flover.io?
Flover.io is the complete package of software tools for collecting and processing data and events in real time. It readily processes and analyzes all data from sensors, machines and equipment, control units, information systems or enterprise data sources that are subsequently transformed, consolidated and analyzed.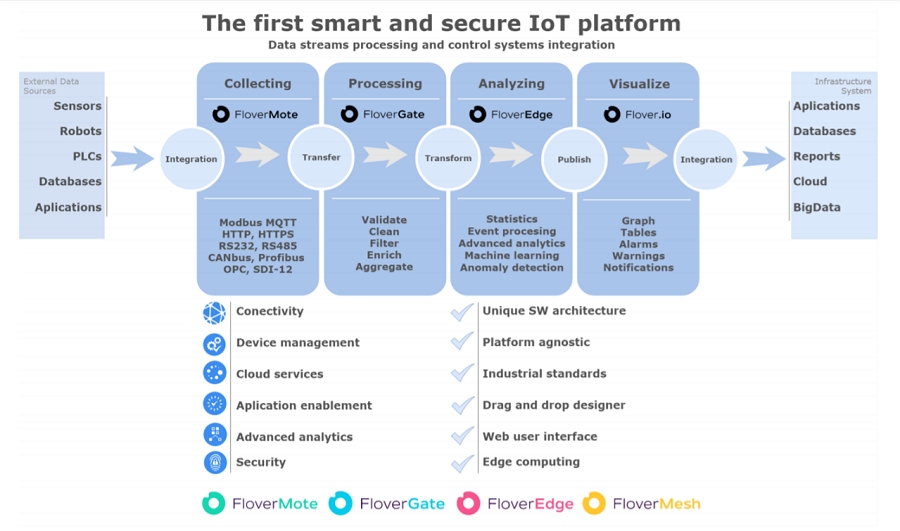 What can you do with Flover.io?
Collect streaming and batch data from any source
Build automated data flows to transform, analyze and integrate using pre-built modules and connectors
Enrich, clean, prepare and normalize the data
Make Big Data small with advanced filtering, aggregation, and compression
Move processed and analyzed data continuously to IT infrastructure or dashboard
Build applications with a drag-and-drop designer make innovation easy and faster than ever
Configure business rules and conditions triggers
Build drag-and-drop real-time dashboards to analyze data and control devices
Create notification systems, including warnings and alarms
Simplify the ongoing management of all IoT devices in the ecosystem
FloverMote
The modular device FloverMote is designed to perfectly connect any sensors to the enterprise infrastructure, automate processes and process all available data.
With a wireless communication interface, durable industrial design and autonomous power supply of the solar panel, FloverMote provides simple and quick installation anywhere in the interior and exterior without the need for a conventional power supply.
FloverGate
FloverGate is a programmable IoT gateway designed to connect any type of data source, including wireless sources, for continuous data collection and processing from the entire enterprise infrastructure.
Through FloverGate, all the collected, processed and consolidated data are quickly transferred to the IT infrastructure, data center or cloud for subsequent analysis and further processing.
FloverEdge
FloverEdge is a unique Edge Computing device with simple operation and flexible functionality. Its core is FloverGate with analytical software tools that include all the necessary functions for electronic data collection, temporary storage and real-time analysis of data and events.
FloverEdge processes and analyzes data at the edge of the network and sends only useful information to the data center, unlike the IoT gateway where complete data is transferred to the data center.
Flover.io features
Unique SW architecture, modular architecture is designed to meet the complex architecture of future IoT applications
Platform agnostic SW, running on any embedded device, on-premise IT infrastructure or cloud
Industrial Standards: Modbus, MQTT, HTTP/HTTPS, CoAP, (D)TLS, REST, NATS, CAN bus, MODBUS, Profibus, SDA-12, RS485, OPC DA, OPC UAAMQP, XMPP, DDS, LWM2M.
No installation, web browser user interface.
No Code programming, drag and drop designer
Rapid application development, build a real time IoT application within minutes
Pricing, transparent and competitive
One vendor
Fields of application
Industrial Automation : Data collection and analysis from local control systems, Integration and communication of heterogeneous systems, Control systems - monitoring of machines and equipment, Automatic diagnostics of devices and monitoring predictive maintenance
Utility: Smart metering solution enables remote reading and evaluation of measured data.
Smart buildings : Monitoring and control of energy consumption, Intelligent control of HVAC and lighting systems, Detection of important and hazardous substances